Sorry I'm sucking at answering my comments lately. I just have limited time I'm comfortable sitting at the computer so I've been using it visiting other sites. Anyway, I love & appreciate all the thoughts from you all. Thanks.
**********
Yesterday morning, my mom and Emily and I took Kate and her children out for breakfast. While waiting for our food to arrive, the kids colored. Emily, ever the non-conformist, wasn't interested in coloring on the front of the placemat, she preferred to make her own picture on the back.
Em: "Mommy, I'm making a picture of Katie."
Me: "My sister Katie?"
Em: "NO! That's Kate. Your friend
Katey
."
Me: "Oh, I'm sure she'll like that."
Em: "Yeah. Does she have straight hair or curly hair?"
Me: "Straight."
Em: "Ok."
She finished drawing and then said, "Here mommy, here's your friend Katey so you never have to remember how she looks like" and handed me this: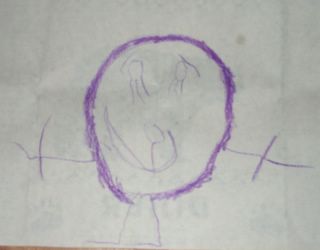 I think it's a pretty good depiction, don't you?