Bits and Pictures: Updated
Yesterday morning I was so fucking cold my nose started running spontaneously and I thought my nipples would fall off. When I read this blog by
Lois Lane
, I laughed so hard! She *perfectly* captured the feelings I had. The embarrassing part is that here in California, it wasn't even freezing—I was just being a weather wimp.
*************
Did I already mention that I had DSL installed at my house? I love it, but the filter on my kitchen phone doesn't work properly. The line is full of static and it's very hard to hear. That coupled with my deaf left ear has made phone conversations difficult at best. I've never been much of a phone person 'cause of the deafness thing, but this just compounds it. It sucks, but even worse during the holidays when lots of people want to call and catch up.
*************
Eric's folks own a vacation cabin in Calaveras County. It's been up for sale for a few months now and they finally have a buyer. Escrow is due to close at the end of January (ish), so Eric's dad wants to go up there with the whole family before it's gone. As luck would have it, they're thinking of going up the weekend I'm in Kansas City—that would be SO convenient! It'll make her not miss me as much; she'll just think it's a normal weekend with her daddy & his folks.
*************
Oh man, I nearly forgot! On Friday as I was putting up Christmas lights, I received a package from
Julie
with four (or was it five?) new Christmas CDs and a Christmas cassette tape. Julie, thank you so much! The whole house is enjoying all the new tunes. **Smooch**
*************
Ok, so most of you know that my sister Kate is an artist. She belongs to this group where every Monday they get a topic and by Friday of each week they post their interpretation of the topic. This week's topic was "Home". Go to
Kate's blog
to see her "Home" drawing—those are her kids in the backseat of the car.
All of this is to say, seeing that picture reminded me of a vacation we were on together last June. I was off doing something so Kate had all the kids—her son (mop-head white-blond), her daughter (straight, dark, thick hair), and my daughter (the screaming-red-head). A couple walked past her, looked, looked again, looked yet again, then the wife touched her husband's arm, pointed discreetly to Kate and kids and said quietly (but loud enough to hear), "Hmmm, what are the odds of that?" So funny, and so true!
*************
Speaking of Kate, she's coming up today with her husband, their 2 kids, the dog and the guinea pig (or as Emily calls it, the skinny pig). Our younger sister and our brother will arrive on Thursday and everyone is staying until Monday. I'm so excited! Finally, I'm excited about this Christmas season. It sure has taken long enough for me to get into the spirit this year.
*************
My mom is finally in the spirit, too. Ever since we've become adults, we have a "new" way of preparing stockings for Christmas morning (so we won't see what's in our own). We get together a bunch of paper grocery bags, write a person's name on the outside, then fill them up with the various goodies we've purchased for each other. On Christmas eve, we transfer the stuff to the stockings. Sometimes we're more organized than others—this is not one of those years! Mom and I started filling up the bags last night with goodies and discovered that my brother's stocking is nearly full already, and Kate and Teri aren't even here yet, but Emily's stocking is still almost empty. Oops. Though I'm sure things will even out a bit more (at least I hope they do) once my sisters arrive with their contributions.
*************
Ok, folks, your reward for sticking with me through all this rambling is pictures of Em:
On the 11th of December, Em had a b-day party with her grandparents (her dad's folks). One of the things she received was a little tea set, which she loves. Here's a picture of her having tea with my roommate, Jessica (Jess isn't in the picture though—she threatened me with bodily harm if I post her picture):
Tea Party
*************
This is a picture of Em and her Daddy taken a couple nights before her birthday. He showed up unexpectedly and helped me get her ready for bed. It was a happy surprise!
Em and Daddy
*************
Here she is with my brother, Benjiman, about 10 minutes before her actual birthday party started (12/18). They don't know each other very well (Benj is a busy pre-med student so doesn't spend a lot of time with the sisters & our kids), but he made her smile anyway.
With Benj
*************
Here's the Snow White cake I made for the Princess. Upon seeing it, she immediately declared, "I HATE IT!", but she didn't have a problem eating it. (hee hee hee!)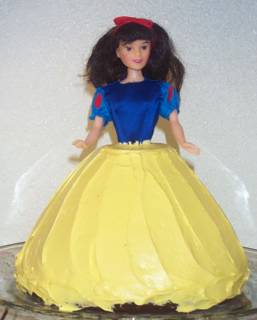 Cake
*************
UPDATE:
I got three very cool things since I put up this post. First, I bought myself a new pair of shoes:
New Shoes
*************
Second, I bought myself a new pair of sandals (I know it's early, but they were on a GREAT sale!)
New Sandals
*************
And I have saved the best for last--Third was a Christmas present from
Celti
(the angle kinda sucks, but I'm pressed for time. When I can, I'll take a better picture & post it. It's a pair of beautiful purple glass candle holders that match my bedroom style perfectly!):
From Celti
*************
Thursday is my department Holiday party and them I'm off work until Monday. I'll blog when I can through the busy weekend, but doubt I'll have much alone time, much less computer time! Happy Holidays to all my Blogger friends from Northern California.
Merry Christmas from Northern California